Ingredients:
Korean carrots 250g;
2 cucumbers;
2 tomatoes;
parsley;
dill;
green onions;
hard cheese 150g;
beef "Mikhailovskaya" 250g;
mayonnaise to taste.
Cooking:
1. Mix all the ingredients, season with mayonnaise.
Salad "Lady"
Ingredients:
● 300 g chicken fillet
● 150 g cucumbers
● 150 g canned peas
● 150 g sour cream
● bunch of dill
● salt
Cooking:
1. Boil the chicken fillet for 20 minutes from the moment of boiling. Cool down.
2. Cucumbers cut into medium cubes.
3. Finely chop the dill.
4. Cut the chicken fillet into medium cubes.
5. Put fillets, cucumbers, dill, peas in a salad bowl.
6. Add sour cream, salt, mix.
Raffaele from crab sticks
Ingredients:
200 g crab sticks (crab meat).
150 g of processed cheese "Friendship".
2 boiled eggs.
2 cloves
Cooking:
1. Cool the pre-melted cheese (it is better to put it in the freezer for a while) so that you can grate it on a coarse grater.
2. Crab sticks also grate on a coarse grater. Mix grated cheese and crab sticks, add finely chopped eggs and two cloves of garlic, previously grated on a fine grater.
3. Add quite a bit of mayonnaise. Form small balls, roll in pre-grated crab shavings. Put in refrigerator.
Salad "Neptune"
Ingredients:
300 g shrimp
300 g squid,
200 g crab sticks,
5 eggs
130 g red caviar,
mayonnaise.
Boil shrimp and squid. Cut all ingredients. Mix everything, add mayonnaise and mix again, and at the very end add red caviar, salt and pepper.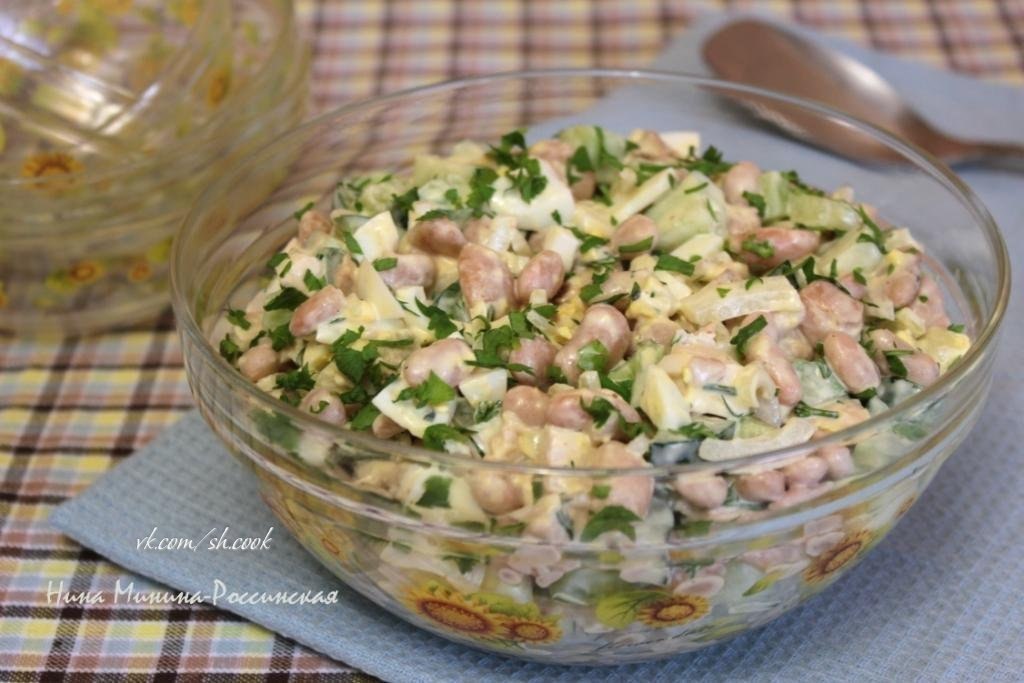 Salad with chicken and beans
Ingredients:
●Chicken breast (pastroma) – 250 grams
●Canned white beans – 1 can
●Onion – 1 head
●Cucumber – 1 piece
● Hard-boiled eggs – 4 pieces
●Dill – 1 bunch
●Parsley to taste
● Mayonnaise to taste.
Cooking:
The salad is very quick to prepare if there is ready-made chicken meat, such as pastrami (the recipe is given on the site) and hard-boiled eggs, although they cook quickly. It remains only to cut all the ingredients and season.
Peel the eggs and chop finely.
Chop onion and squeeze. If it is bitter, then additionally scald.
Cucumbers cut into cubes.
Cut the chicken breasts into medium sized cubes as well.
Chop the dill without stems.
Drain the juice from the beans and add it to all the ingredients.
It remains to season the salad with mayonnaise to taste and mix.
Salad Obzhorka
Ingredients:
1 can of canned beans (only not in tomato),
2 tomatoes
50 gr. parsley,
50 gr. smoked sausage,
50 gr. cheese,
2 tbsp. spoons of mayonnaise.
Cooking:
1. The sausage is cut into strips, the cheese is rubbed on a fine grater,
tomatoes crumble into cubes, finely chop the parsley,
all ingredients are mixed and seasoned with mayonnaise.
2. Delicious unusually. Bon appetit!
And if you add croutons ….. super …….
"Salad with pickled mushrooms"
Ingredients:
1 can of pickled mushrooms
a bunch of green onions
300 g ham
3 pcs. boiled "in their uniforms" potatoes
3 eggs
mayonnaise
Cooking:
1. Take a deep bowl and lay in layers:
– 1 layer – pickled mushrooms;
– 2 layer – green onions;
– 3rd layer – diced ham;
– 4th layer – diced potatoes;
– 5 layer – finely chopped boiled eggs.
2. Grease all layers with mayonnaise, put a bowl
refrigerate and invert onto another plate before serving.
Delicious without mayonnaise
Ingredients:
●Canned red beans – 1 can
●Canned corn – 1 can
●Bulgarian pepper – 2 pcs.
● Pickled cucumbers 4-5 pcs.
●Walnut – 100 gr.
●Garlic 2-3 cloves
●Parsley dill, green onion
●Vegetable oil
●Salt, ground black pepper.
Cooking:
1. Put the beans, corn, finely chopped cucumbers, bell peppers, finely chopped walnuts, grated garlic (or through a garlic press) into a bowl
2. Finely chopped dill, parsley, green onions, salt, pepper, season with vegetable oil. Ready! Enjoy!
SALAD WITHOUT MAYONEZE 🍴
Ingredients:
● 2 chicken fillets
● 1 can of canned corn
● 1 can of canned red beans
● medium green pepper
● 2 medium tomatoes
● 1 medium onion
● parsley
● seasoning for chicken
For sauce:
● 1/3 tbsp. vegetable oil
● 3 tbsp. vinegar
● 3 tbsp. mustard
● 2 tbsp liquid honey
● 2 garlic cloves
● ½ tsp. thyme
Cooking:
Rinse and dry the fillet, cut into cubes, sprinkle with seasoning. Put in the refrigerator for 60 minutes, then fry. Strain the corn and red beans. Peel green peppers, rinse and cut into large cubes. Tomatoes cut into large cubes and lightly squeeze the juice. Peel the onion and cut into cubes. Cut the parsley. Peel and crush the garlic. For the sauce, mix vinegar, oil, mustard, liquid honey, crushed garlic and thyme and leave for 30 minutes. Put everything in a bowl and pour over the sauce.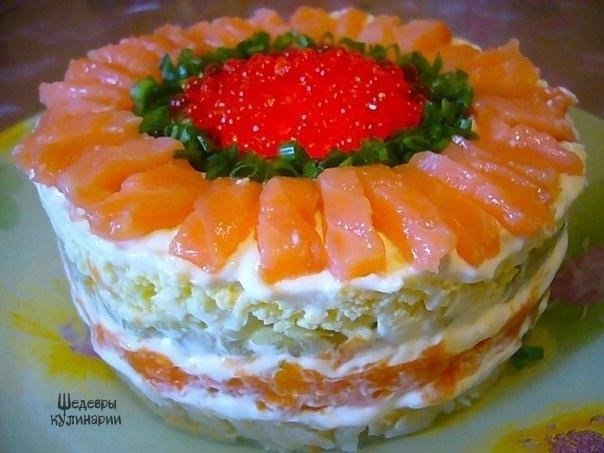 SALAD WITH SALMON
Ingredients:
● salted salmon – 400 gr
● hard cheese – 200 gr
● boiled potatoes – 3 pcs.
● boiled eggs – 3 pcs.
● apples — 3 pcs.
● onion – 3 onions,
● vegetable oil for frying onions.
● mayonnaise – 300 gr
● red caviar for salad decoration – 150 gr
● lettuce leaves – for decoration
Cooking:
1. Rub boiled potatoes on a coarse grater.
2. Divide the eggs into whites and yolks and also grate the whites from the yolks separately.
3. We clean the onion, cut it into half rings and fry it in vegetable oil until golden brown.
4. Cut the salmon into small pieces – squares.
5. We also grate cheese and apples.
6. Put the salad on a dish in layers, grease each layer with a thin layer of mayonnaise:
1st layer – salmon and fried onions – grease with mayonnaise.
2nd layer – potatoes – grease with mayonnaise.
3rd layer – apples – grease the layer with mayonnaise.
4th layer – cheese – grease with mayonnaise.
5th layer – protein – grease with mayonnaise.
6th layer – yolks and a little cheese – grease with mayonnaise.
7. When the salad is assembled, let it soak before serving, for 3 hours, or even better, cover it with cling film and refrigerate overnight to soak. Before serving, decorate the dish with red caviar and lettuce.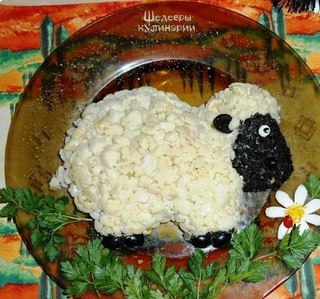 SALAD FOR THE NEW YEAR "Sheep"
Ingredients:
● 300 gr. meat (beef, pork), you can chicken breast
● 500 gr. cauliflower
● 3 tbsp. tablespoon of canned corn
● mayonnaise
● salt, ground black pepper
● bunch of parsley
● Olives (200g)
● Red pepper or tomato (for decoration)
● Boiled eggs (2 pcs)
● for acidity and spiciness in this salad, you can add
pickled cucumber 1 pc.
Cooking:
Put the meat to boil in salted water. While the meat is cooking, wash the cauliflower and disassemble the inflorescences, and also put it to boil in salted water (cook for 7-10 minutes). If you cook a whole large head of cabbage, then the inflorescences can be digested. Put eggs to boil. In a deep bowl, put the corn, boiled meat, cut into squares.
Cut the eggs into squares and add to the bowl, leaving a little white and yolk for decoration. Add chopped olives to them, leave 15 pieces to decorate the salad. Finely chopped parsley, preferably a large bunch, salt, pepper, season with mayonnaise and mix everything well.
For salad, take a wide dish or plate. Put the salad in a sheep-like shape, if you can't, draw a sheep on the film, cut it out and put it on a dish, put your salad on top, flattening it with your hands to the plate. 10 pieces. grind olives in a mixer or blender, if not, finely, finely chop.
Now the fun part! We lay the cauliflower inflorescences (use only the upper part of the inflorescences with a short stem), cover the muzzle with finely chopped olives. Cut the olive into 1/3, pierce most of it with a toothpick. We insert the ear, covering the toothpick with a small inflorescence.
Grease the halves of the olives with mayonnaise and lay out the legs.
The eye was cut out of egg whites, a circle of olives was placed on the oval, and a sesame seed smeared with mayonnaise was placed on top (if there is no sesame, put a piece of protein). Nostrils from a thin strip of olives, and below, from a small piece of cabbage inflorescence, attached a mouth, and behind a tail. I decorated the salad with chamomile from eggs and a ladybug from red sweet pepper, and of course greens. In general, decorate the dish, you can at your discretion. Before serving on the festive table, cover the cauliflower with a small layer of mayonnaise.
SALAD "FOOD POLYANKA"
Ingredients:
● 1 jar of champignons
● mayonnaise
● 2-3 pcs. carrot
● 1 pc. cucumber
● 1 pc. chicken breast
● 2 pcs. chicken eggs
● 2 pcs. potato
Cooking:
Boil eggs, chicken, carrots and potatoes. Cover a deep salad bowl with thin cling film. Spread the salad in layers: whole mushrooms (caps down), chopped herbs, grated carrots, mayonnaise, chopped chicken meat, mayonnaise, chopped fresh cucumber, grated eggs, mayonnaise, grated potatoes, mayonnaise. Leave for 6-10 hours.
Before serving, invert the salad bowl onto a plate and carefully remove the film.
Christmas tree for the New Year's table! ❄