PRACTICE 6
Subject : Licensed software. Open Licenses . Review of vocational education in socio-economic activity, its licensed use and updating regulations (accounting information systems, legal databases).
Goal : Formation of students' ideas about software licensing, commercial and free open source software.
Teaching aids: PC, instruction card
Theoretical part:
Personal computer software
An integral part of the computer is software, because the computer works according to the program and with programs. The computer itself has no knowledge of any application. All this knowledge is concentrated in programs running on computers. Software (software) of modern computers includes millions of programs – from gaming to scientific.
Software (Software ) refers to a set of programs that can be executed by a computer system.
Consider software (software) by the method of access to it and the terms of use . You know that some programs are freely available, for example, you can download them for free from the Internet, install them on your computer and use them freely.
Programs according to their legal status can be divided into three large groups: licensed, shareware and freely distributed.
1.Commercial licensed programs . In accordance with the license agreement, the developers of the program guarantee its normal functioning in a certain operating system and are responsible for this. Developers usually sell licensed programs in boxed distributions.
The box contains CDs from which the program is installed on users' computers, and a user manual for working with the program.
Quite often, developers provide significant discounts when purchasing licenses for using the program on a large number of computers or educational institutions.
2. Freely distributed programs (Freeware). Many software and computer hardware manufacturers are interested in the wide distribution of software free of charge. Such software tools include:
· New unfinished (beta) versions of software products (this allows them to be widely tested).
· Software products that are part of fundamentally new technologies (this allows you to conquer the market).
· Additions to previously released programs that fix bugs found or expand capabilities.
· Drivers for new or improved drivers for existing devices.
3. Shareware programs . Some software firms offer shareware programs to users for advertising and promotion purposes. The user is provided with a version of the program with a certain period of validity (after the expiration of the specified period of validity, the program stops working if payment has not been made for it) or a version of the program with limited functionality (in case of payment, the user is provided with a code that includes all the functions of the program).
Registration key – a set of numbers and letters required to confirm the license, install and use certain computer programs. The key can be any length, but most often the key is between 10 and 30 characters long.
The registration key is needed in order to confirm the uniqueness of the copy of the software. The registration key is most often written on the packaging, disk or in the accompanying documentation.
Organization of software updates via the Internet
Any operating system, like software products, must be updated some time after installation. Updates are released for:
Eliminations in the security system;
· ensuring compatibility with newly appeared computer components on the market;
optimization of program code;
improve the performance of the entire system.
Updates are additions to software that prevent or fix problems and improve the performance of your computer. Security updates for Windows help protect against new and existing threats to your privacy and computer stability.
Updates and software from Microsoft for Microsoft products are a free support offer.
To update programs automatically: Click the Start button, select Control Panel, and double-click the Automatic Updates icon.Select Automatically (recommended).Under the Automatically download and install recommended updates on your computer option, select the day and time when you want the Windows operating system to install updates.
Automatic Updates ensures that updates are installed in the first place, which include security updates and other important updates that help protect your computer. We also recommend that you regularly visit the WindowsUpdate Web site (http://www.microsoft.com/) for optional updates, such as recommended software and hardware updates, that can help improve the performance of your computer.
Work order:
Task number 1 . Find in "SPS Consultant Plus" the law of the Russian Federation "On information, informatization and information protection" and highlight the definitions of concepts:
1. information
information Technology
owner of information
confidentiality of information
Task number 2. Find in "SPS Consultant Plus" the law of the Russian Federation "On Information, Informatization and Information Protection" information on liability for offenses in the field of information, information technology and information protection.
Task number 3. Fill in the table "Paid and free software".
Table "Paid and free software"
| | | |
| --- | --- | --- |
| ON | Paid programs | Free |
| Operating Systems | | |
| Programs for working with office documents | | |
| Image programs | | |
| Programs for working with video and sound | | |
| Disc burning software | | |
| Programs for virtual communication | | |
| Translation software | | |
| Accounting programs | | |
| Antivirus | | |
| Archivers | | |
| Text recognising | | |
Task number 4. Create an MSWord document, save it in your folder under the name PR6_Surname.
Open the Start menu: Right-click on the line All programs – the command Open a common menu for all – the Programs folder
Complete the list in MSWord as shown below: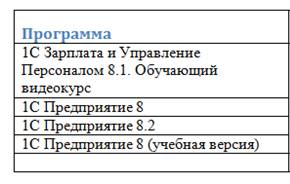 Answer the questions:
1. What is computer software?
2. What programs are shareware?
3. What software is classified as free software?
4. What are the benefits of licensed software?
5. What problems can arise when using an unlicensed software product?