INTRODUCING 3UTOOLS
3uTools is an all in one tool for all iOS devices. 3uTools can help you upgrade, flash, downgrade and jailbreak your device. Also in 3uTools you can activate the device, back up and restore the device, clean up unused files, transfer data from one device to another, convert audio / video, edit audio, manage device icons, compress photos, open SSH terminal, delete broken icons, create ringtones, remove iOS new version notification, convert photos, download free apps, wallpapers and ringtones.
DOWNLOAD AND INSTALLATION
The latest version of 3uTools can be downloaded and installed from the official website of the 3uTools program. After the download is complete, run the " 3uTools_vX.XX_Setup.exe " file and click on " Install ". Don't worry, the installation process is very fast. The installation will take a few seconds, after which a window will appear informing you that the installation is complete. After successful installation, click on " Launch " to launch the 3uTools program.
HOW TO USE THE 3UTOOLS SOFTWARE?
To detect the device, you will need to install iTunes or the latest Apple drivers on your PC. The first time you connect the device to the PC via USB cable, 3uTools will automatically detect the device and request access to the device, when the device displays a window asking you to trust the PC, click on " Trust " on the device screen to start using.
PROGRAM INTERFACE – TABS
Device
This tab contains all the information about your device. Click on " Device Details " if you want to see detailed information about your device. If you need to copy the information, click on " Open in Notepad ", after which you can copy the information you need.
Apps, ringtones and wallpapers
You can download apps, wallpapers and ringtones for free by clicking on the corresponding tabs, then you can quickly and conveniently import the downloaded apps, wallpapers and ringtones to your device. 3uTools is constantly updated, so it will meet your requirements as much as possible.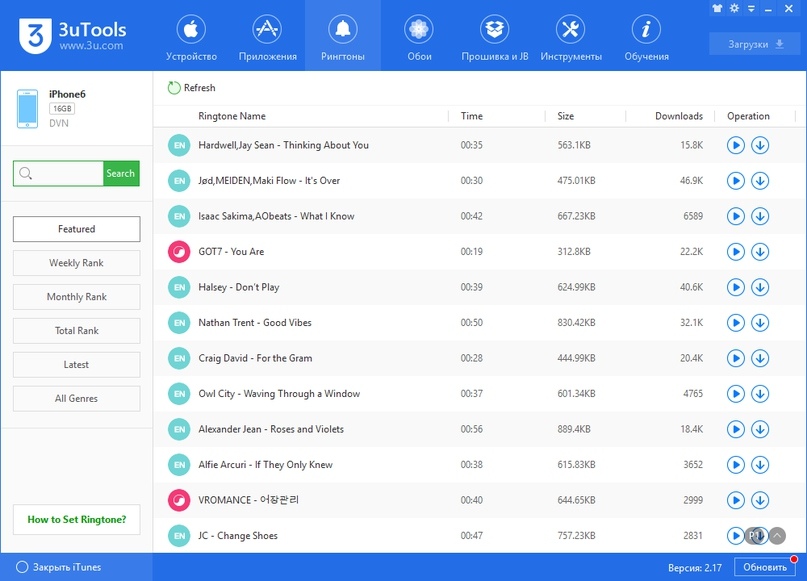 Firmware and Jailbreak
This tab is focused on helping you flash, upgrade, downgrade and Jailbreak your device.
Tab " Firmware ", designed for simple firmware. It will display the appropriate firmware for your device when you connect your device to 3uTools. You don't have to worry about which firmware to download for your device.
" Pro Firmware " If your device is stuck in DFU mode or at the Apple logo, Pro Firmware will solve your problem once and for all. Moreover, in the Pro-firmware tab, you can activate your device.
Multiple Flashing tab, supports flashing multiple devices at the same time. If you are an Apple device technician, this will save you a lot of time.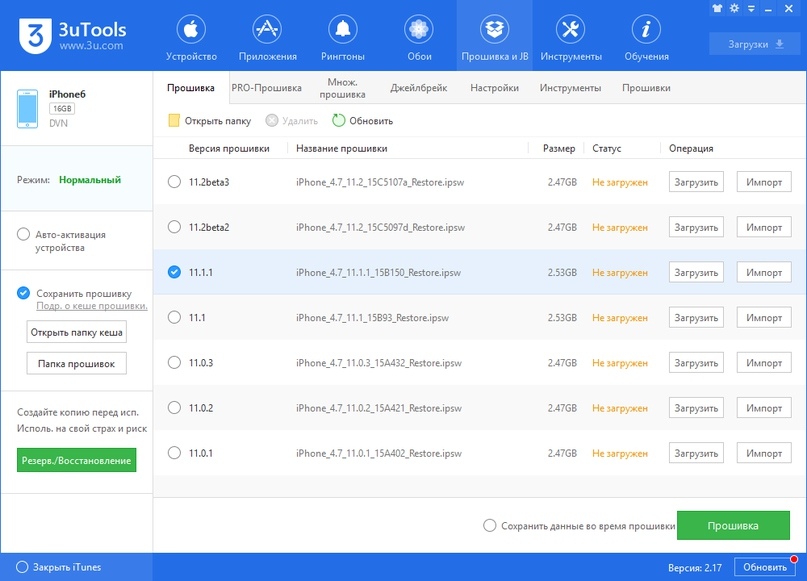 Jailbreak
You can also jailbreak your device by going to the " Jailbreak " tab.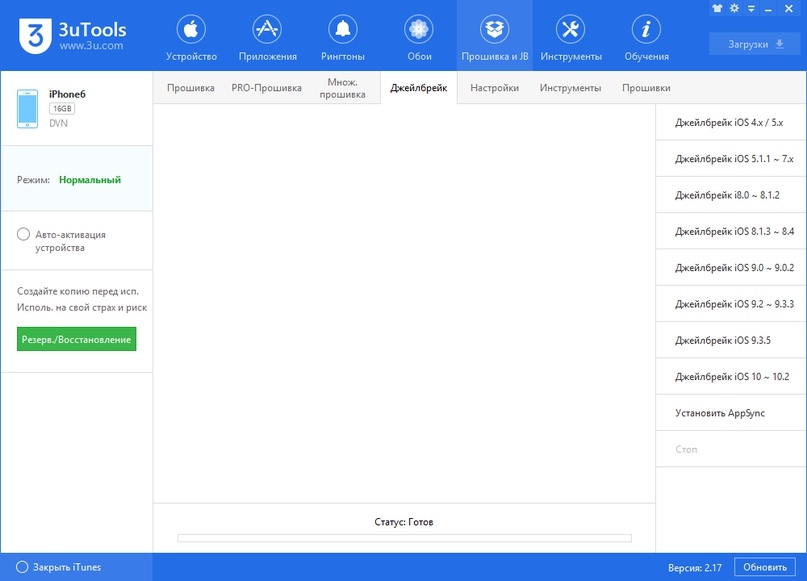 Instruments
By clicking on the " Tools " tab, you can download other tools for working with iOS devices. For example, you can download the latest version of iTunes.
firmware
This tab displays all firmware versions for iOS. You can sort firmware by Device and Version, then select the desired firmware and download it to PC.
" Note: " A green dot means the firmware is up to date, and a white dot means unavailable and signature terminated, but you can download any of them.
Instructions
Useful instructions for using 3uTools are displayed here, designed to teach you how to use certain functions of the 3uTools program. Here you can find the instructions you need. In addition, the 3U team is constantly adding new instructions. You can find additional usage instructions on the official website of the developer.
HOW TO SWITCH 3UTOOLS TO RUSSIAN?
1. Make sure you have installed and/or updated 3uTools to the latest version.
2. If you have already installed 3uTools, run 3uTools > click " Update " in the bottom right corner of the program so that 3uTools can check for updates and upgrade to version 2.17 and above automatically.
3. If you haven't installed 3uTools yet, you can install it by downloading it from here.
4. Run 3uTools, go to " Settings " and in the drop-down menu " Set Language " select " Russian language ". Then click on " OK ".
5. Remember that the selected language takes effect after restarting 3uTools. After the restart, you can use the Russian version of 3uTools.