First meal
Main courses
Salads, desserts, pastries
If you, following my example, filled out such a table, then it will not be difficult to calculate the number of products and write a list with which you will go for groceries. You can buy everything at once, except for dairy, bread and some vegetables and fruits.
And you can shop once a week or every two weeks.
Be sure to check what you have available at home. For example, you have prepared jam, pickles, greens and stocked up for the winter, and buckwheat semolina and cocoa, bought recently and for the planned number of dishes, there are enough of them. We will not include them in our list. And so on for all positions.
Our task is to optimize the cost of food. Now, thanks to the fact that we have compiled a menu for a month with a complete list of products, this is easy. If the amount received is too big, we change one or more dishes to more economical ones.
Well, then – shopping and, at our discretion: we buy everything at once, leaving a small amount for the purchase of bread, dairy products and fruits, or we write a menu for a week and buy products for a week plus, partially, for semi-finished products.
In any case, you will win – either money for food is set aside, or groceries are purchased for a month. And there will be no question that some negligent housewives ask, "The money is over, what to cook to eat?"
A compiled menu and grocery shopping for a week or a month will protect you from such problems and help you save on food. Saving is easy!
How much food do you need for a week?
Sometimes, when I publish a menu from the "economy" series, I am reproached that it is on the verge of starvation. Therefore, before writing the menu itself, I will show how many products are included in it. Everything did not fit on one table, I had to shoot in three stages.
Meat, poultry, fish, eggs, dairy products
Vegetables, fruits, herbs
Grocery and other products
In my opinion, the threat of starvation does not threaten anyone, right? More than enough vegetables and fruits. And on the menu every day (!) There is either meat / poultry or fish.
Economy menu for the week
(all recipe links are clickable)
Monday
Breakfast – Buckwheat porridge
Lunch – Chicken soup with vermicelli
Snack – Salad of carrots and dried apricots
Dinner – Liver in sour cream + vermicelli + salad of carrots and dried apricots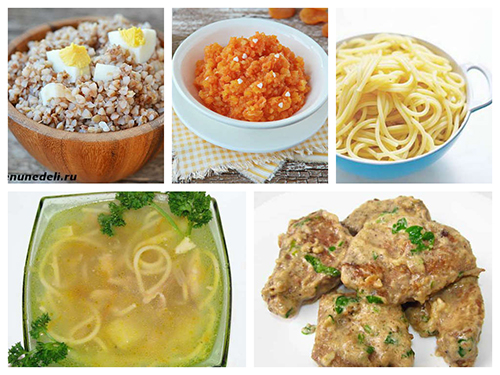 Tuesday
Breakfast – Sandwiches with liver pate (the pate is made from the liver left over from dinner)
Lunch – Chicken soup with noodles (prepared on Monday)
Snack – Roll with lemon
Dinner – Fish meatballs + vinaigrette
Wednesday
Breakfast – Porridge "Assorted"
Lunch – Pea soup with garlic croutons
Snack – Lemon roll (prepared on Tuesday)
Dinner – Fish meatballs + vinaigrette (prepared on Tuesday)

Thursday
Breakfast – Omelet
Lunch – Pea soup with garlic croutons (prepared on Wednesday)
Snack – Fritters with apples
Dinner – Braised cabbage with rice and minced meat + carrot salad with garlic

Friday
Breakfast – Fritters with apples (prepared on Thursday)
Lunch – Soup with tomato paste and noodles
Snack – Kefir cocktail with banana, ginger and cinnamon
Dinner – Braised cabbage with rice and minced meat + carrot salad with garlic (prepared on Thursday)
Saturday
Breakfast – Cheesecakes with apples
Lunch – Soup with tomato paste and noodles (prepared on Friday)
Snack – Cheesecakes with apples (left from breakfast)
Dinner – Chicken cutlets + potatoes + fresh cabbage salad with garlic dressing
Sunday
Breakfast – Millet porridge with pumpkin
Lunch – Rassolnik
Snack – fruits (apples)
Dinner – Chicken cutlets (prepared on Saturday) + rice + beetroot salad with green peas